bruce.sg
BRUCE.SG was registered 13 years ago through SINGNET PTE LTD, it is expired at 8 hours ago.
The technical contact named DOMAIN ADMINISTRATOR who was listed on 998 other domains.
The contact email [email protected] is also listed on 3 other domains.
Server is located at with ip address 101.100.227.11. There are no other websites hosting on this ip.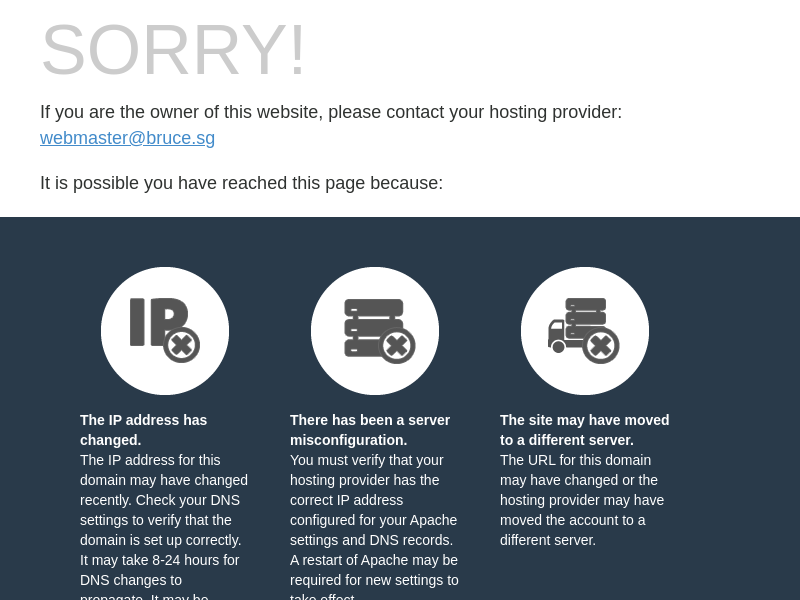 Registration Date
2007-11-28 17:53:31
Modified
2020-11-22 09:02:26
Expiry Date
2021-11-28 00:00:00
Registrar
SINGNET PTE LTD
Registrant
Loh Keng Leng (SGNIC-PERLO264043)
Administrative
Loh Keng Leng (SGNIC-PERLO264043)
Technical
DOMAIN ADMINISTRATOR (SGNIC-PERDO264044)
Contact Email

[email protected]

IP
101.100.227.11
IP Location
Singapore
ISP
Vodien Internet Solutions Pte Ltd
Hosting Organization
Vodien Internet Solutions Pte Ltd
AS
AS58621 Vodien Internet Solutions Pte Ltd
DNS
NS10.WEBVIS.NET
NS2.SVGINTL.NET
Domain Status
OK
[email protected] Required