zaab.com.sg
ZAAB.COM.SG was registered 4 months ago through DREAMSCAPE NETWORKS INTERNATIONAL PTE LTD, it will expired in 7 months from now.
The registrant named MINOR FOOD GROUP (SINGAPORE) PTE. LTD. who was listed on 2 other domains.
The administrative contact named RAWMIXMEDIA who was listed on 9 other domains.
The technical contact named DOMAIN ADMINISTRATOR who was listed on 1264 other domains.
The contact email [email protected] is also listed on 321 other domains.
Server is located at Western Australia with ip address 203.170.80.250. There are no other websites hosting on this ip.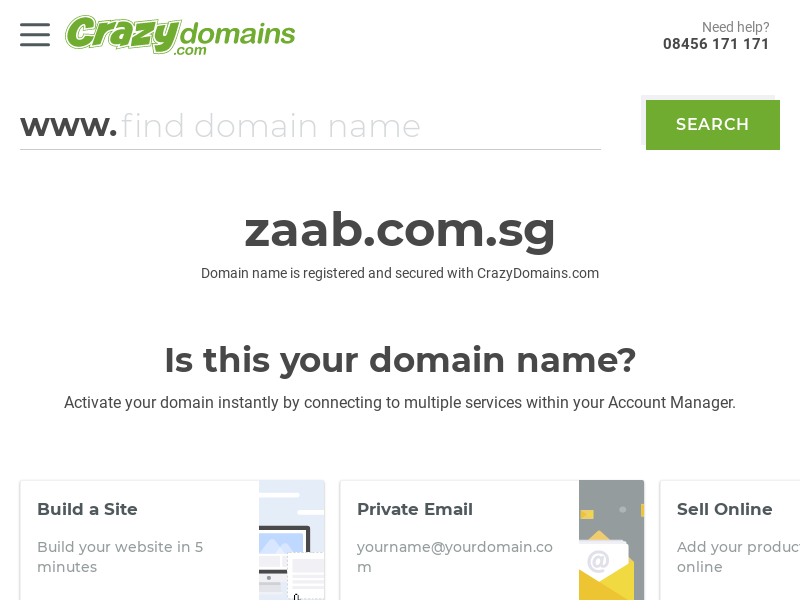 Registration Date
2022-02-23 12:56:08
Modified
2022-02-25 08:35:19
Expiry Date
2023-02-23 12:56:08
Registrar
DREAMSCAPE NETWORKS INTERNATIONAL PTE LTD
Registrant
MINOR FOOD GROUP (SINGAPORE) PTE. LTD. (SGNIC-ORG2322325)
Administrative
RAWMIXMEDIA (SGNIC-ORG1829260)
Technical
DOMAIN ADMINISTRATOR (SGNIC-PER20245044)
Contact Email

[email protected]

IP
203.170.80.250
IP Location
Australia Western Australia
ISP
DREAMSCAPE-INC
Hosting Organization
Dreamscape Networks Inc
AS
AS38719 Dreamscape Networks Limited
DNS
NS1.CRAZYDOMAINS.COM
NS2.CRAZYDOMAINS.COM
Domain Status
OK
[email protected]
[email protected] (VERIFIED BY ADMIN CONTACT)